SIM-INTERNET.
SIM supports 3G/4G Data. SIM can be used in Wi-Fi routers, phones, tablets etc. SIM connects to a Network automatically. Secure SIM as a tool to your Network anonymity:
1. Auto change of identifiers every time a handset turns on
2. Protection from HLR attacks
3. PING SMS Protection
4. FAKE BTS Protection
5. Auto VPN (no blocked Services worldwide)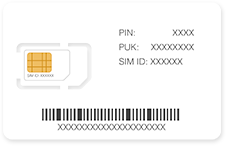 Networks and Operators with Data
Price for one of the Operators
Configure Data for Android:
Settings > Wireless and Networks >
Mobile Network > Access Point Names>
Here you will find APN Data (GPRS), WAP and MMS:
Internet (or GPRS)
WAP
MMS
Create New APN > Choose GPRS
Name – 'any name' (e.g., Secure SIM)
APN –
globaldata
Leave the rest by default. Save the Settings, choose GPRS. Once it is done, Handset connects to Data automatically.
Configure Data on iOS:
Settings > Phone> APN Settings
APN Name –
globaldata
User Name – leave blank
Password – leave blank
To set an APN on an iPhone automatically, choose 'T profile'.
Connect your iPhone to Wi-Fi. Open Safari. Go to http://m.apnchanger.org
Set APN 'Manually'
globaldata
Choose 'Manually'
APN – globaldata